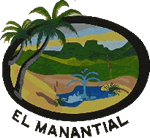 El Manantial de Playa Blanca
Located on the wonderfully long stretch of beach to the south of Ixtapa/Zihuatanejo called Playa Blanca, these rental bungalows are ensconced between
Villas Tollocan and Villas Playa Blanca, slightly south of Hotel Las Palmas.
Each bungalow offers one bedroom, one bathroom, kitchen, and terrace dining and living areas. Bedrooms are air conditioned with ocean view.
NOW W/WIFI !